WHO & WHY of the Impact Laser Tag
The owners:
As a veteran speaker, business coach and trainer with over 20 years of building effective teams all over the world since 1993, Jenya Semenov helps business owners,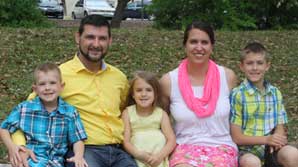 entrepreneurs and HR professionals improve teamwork skills, build strong organizations and reduce turnover. Impact Mobile Laser Tag is a fusion of Jenya's business development expertise and his love of family. Jenya and his wife Karly have three children. Karly is a freelance writer of educational materials (and moonlights as Jenya's editor.) As members of their local Oak Hills Church, the Semenovs believe they are "called to be Jesus in every neighborhood in their city and beyond." Although they are yet to find a story about Laser Tag in the Bible, they do believe in building relationships and community.
The company:
Jenya had a dream of a father having a great time playing "war" with his kids and his wife. The dream was so real it made Jenya curious about the relationship statistics involving fathers in America. He found that more than 50% of American children do not live with their biological fathers. From his professional side, he already knew that the #1 cause of turnover in business is due to subpar leadership! Those two statistics, Jenya believed, were directly connected, and he wanted to make an impact on these trends.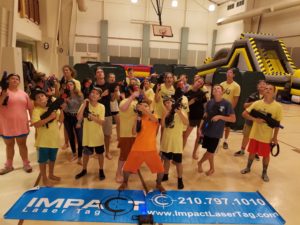 Jenya saw how his and neighborhood kids loved playing Nerf gun battles, especially when dads would get involved. One summer the family went camping in Colorado's Jelly Stone Park where Jenya and the kids got to play laser tag on the side of the mountain. Everyone loved it, and a seed was planted in the Semenovs' minds. Back home again in Texas, Jenya organized some birthday parties and a neighborhood event using Nerf guns and featuring some of the game modes offered in our packages today. The parties were such a success, bringing ought the fun and competitive spirit in all the participants. Jenya began researching types of war-game mediums, and, remembering the family's laser tag experience in Colorado, decided to read up more on laser tag. After substantial research, he and Karly decided to pursue their own laser tag business, and established Impact Mobile Laser Tag in the spring of 2017. If you're in need of improving your team, consider our
Impact Team Building Workshop
.
Vision

Our vision is to see families play together, creating strong, safe and vibrant communities in our city, and beyond.

Mission

We provide Safe, Fun & Engaging environment for families, friends and co-workers to build relationships. We want to help fathers, in particular, spend more time with their kids; for husbands and wives to reconnect; for bosses to become leaders, and for all to create lasting memories.

Values

We believe our gifts, talents and all resources come from and belong to God who matters.
We believe our kids are our future who need our presence now. The young matter.
We believe our friends and colleagues have basic needs to be stress free and feel safe and to have a fun way to work on skills. People matter.
We believe cohesive teams accomplish greater things. Teamwork matters.
Organizations we support: