Laser Tag
Enjoy your laser tag infused party packages for any type of outing: birthday party, casual, or corporate. At Impact Laser Tag, our team members are gamers at heart, just like our customers. We strive to bring our customers the best possible gaming experiences. If you need unique party ideas, we are proud to offer both indoor and outdoor party packages for group events. We're prepared to accommodate your group, family, or associates and ensure that everyone enjoys themselves. Book it today.
Party Packages for Events of Any Kind
Whether we're helping Mom and Dad put together a birthday party or we're helping an HR director plan a company venture, we are sure to provide a fun, memorable celebration. From birthday parties to company workshops, we're prepared to turn your event into a memorable laser tag party, no matter your age* or reason for celebrating. We offer party packages for the following celebrations:
Birthday Party

90 minutes of play

10 players included; additional players, $10 ea.

Delivery (based on ZIP), setup and cleanup included.

$99 booking (non-refundable)

$299 (Mon-Thu) / $349 (Fri-Sun)

Click here to visit our birthday party page.

Team building

Laser Tag fun to lighten up the mood, engage employee's families or focus on building an All-Star caliber T.E.A.M.

A single company event: $499
All-Star T.E.A.M. workshop: $2,500-$5,000

Click here to visit our team building page.

Private Group Event

90-min

Up to 20 players

$10 for ea add'l player

Delivery (based on ZIP), setup* and cleanup included.

$399 (Mon-Thu)
$499 (Fri-Sun)

$50 for additional 30-min

Click here to visit our group event page.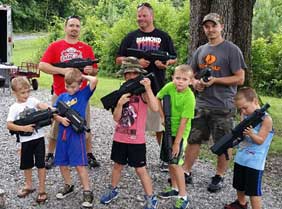 FUNd raiser
School event
Fair or carnival
Church group event
Family reunion
Summer camp
Neighborhood block party
Public event (other than above)
An Unforgettable Bachelor Party
Are you looking for the perfect idea for a thrilling bachelor party? Ever thought to get everyone involved? Is your crew full of active individuals? Transport your party to a live gaming scenario like something out of your favorite first-person shooter. Try out the "VIP" mode. Whether you prefer an indoor or outdoor battlefield, we can make it a party to be remembered by your group according to everyone's personalities, roles and experience. Make your celebration unique with the immersive experience of tactical gameplay with your closest friends and soon-to-be family.