Team Building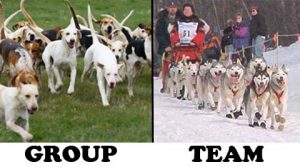 Group vs T.E.A.M. Which picture describes your team better?
There's a big difference between a group of people generally doing the same thing and a team. If your organization looks more like these cute old school hunting dogs that were used to drive the game by creating a lot of activity manifesting in lots of noise, chaos and having lots of resources being pulled in, you know you're spinning wheels". A T.E.A.M. on the other hand is a group, of people participating in the same activity, each knowing their role, strength & weakness and position usually manifests itself in a calm, methodical results producing unit, using just enough resources but producing 30-40% greater results (both in quality and quantity).
Team BONDING vs T.E.A.M. building Generally speaking when we're looking for a single event to do with our employees, we call it the "team building" because somewhere in our corporate culture of instant gratification, we started using this cool word and eventually misplaced it's true original meaning. Team building is a process of execution of a planned strategy to maximize on our human resources. In contrast, team bonding is a single event that contributes to overall execution but does not replace it. One is event,, the other is a process.
Private parties aren't the only type of group events we cater.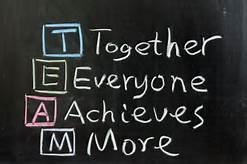 Our managing partner Jenya Semenov spent over 20 years as global corporate team builder delivering results and learning from failed projects. His global expertise provides a unique and very practical experience with real immediate results. IMPACT T.E.A.M. building workshop is a 5-hr to a full day transformational experience for leaders needing to improve their own and their team's communication and team work. Theory is put to the test immediately during specific mission play reflecting real world challenges that will help each participant better understand self as well as those around them. As a John Maxwell Team certified trainer and coach, Jenya adds tremendous value to leadership and team development.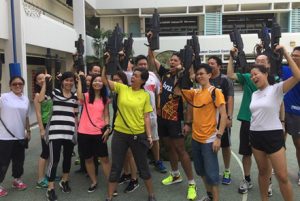 Building relationships and fostering strong communication within the team carries over into every aspect of your business. At Impact Laser Tag, we're just as passionate about helping our clients build great teams and forging relationships as you are. Comradery, trust and cohesiveness among co-workers in a fun, action-packed solution to poor performance and high turnover.
Are you looking for a fun, creative way to show your employees how much you appreciate them? Laser tag is a great medium through which to foster a positive workplace atmosphere and harmony among team members. When you purchase our corporate custom party package, we set up right on your property, campus, parking lot, or grounds and create a temporary arena for maximize on your investment. Use our mobile laser tag services for your next corporate team building exercise will leave you with great insight and appreciation. We greatly enjoy partnering with businesses and are happy to provide our services to entertain your hard working team members and/or clients.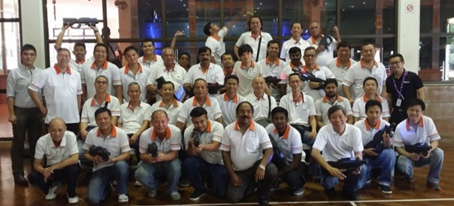 Contact us for more information about our party packages. We serve residential and commercial customers in Boerne, San Antonio, Fredericksburg, Comfort, Leon Springs, Fair Oaks, Dominion, Helotes, and other areas of South Texas.